Historical Havens
Exploring the Opulence: America's Gilded Age Summer Cottages
Grand Houses & Gracious Living
The Gilded Age in America was an era when the riches amassed during the Industrial Revolution were being spent enjoying the "Good Life" … trips abroad, yachts and private railroad cars, lavish entertaining, servants at your beck and call, and grandiose "summer cottages!"
No destination was more desirable than a small seaside community on the North Shore of Boston… a town whose dramatic coastline, sandy beaches, cooling breezes, and many amenities were the perfect anecdote to the sweltering misery of summer in the city.
Welcome to Manchester-by-the-Sea!
Starting in the late 1880s and continuing through the end of the First World War, wealthy families from as near as Boston and as far as St. Louis, Chicago, and New York City discovered Manchester and began to purchase property and build far from modest "summer cottages." Our exhibit provides a close look at just a few of the more than forty such cottages that were built during this period. Many were given exotic names: Woodholm, The Rocks, The Marble Palace, Clipston, Crowhurst, Sharksmouth, Sunny Waters, Apple Trees, Edgecliff, and Lilleothea. The architecture was as eclectic as the names: Shingle and Stick Style, Colonial Revival, Norman French, Classical, and English Tudor.
In addition, take a glimpse of one of the Gilded Age's most famous summer resort hotels, the Masconomo House, and meet some of the locals who catered to the needs of the wealthy summer residents.
Clipston – Smith's Point
In 1898 Mortimer Mason built Clipston, a summer cottage on Smith's Point with beautiful harbor views. It was built on property originally owned by Reverend Cyrus Bartol, Manchester's first and most successful real estate speculator.
The architects were Andrews, Jacques, and Rantoul, and the builder was the local firm of Roberts and Hoare. In 1910, Boylston A. Beal purchased the property and remodeled the Mason house into a Colonial Revival mansion, with Arthur D. Little as the lead architect. Roberts and Hoare again did the work. Improvements included a magnificent new library, an expanded drawing room for entertaining, and a spacious porch at the rear of the house, affording wonderful views of a formal garden.
Clipston remains today as envisioned by Boylston Beal and architect Arthur Little.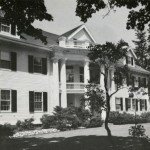 Front entrance to Clipston.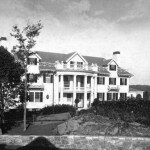 Front entrance to Clipston.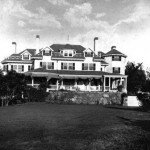 Ocean front façade of Clipston.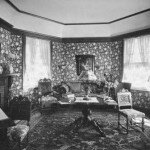 Floral décor and fireplace parlor.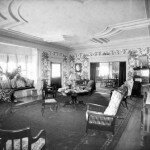 Note the floral wallpaper, carved ceiling, and spacious, light-filled living room.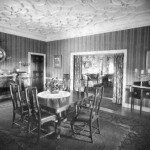 The dining room looks into the living room.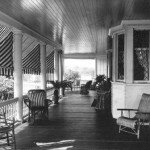 Piazza.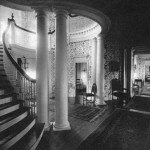 Formal curved staircase.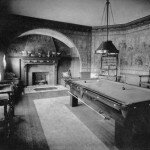 Billiard room with massive fireplace and tapestry wallpaper.
Sharksmouth – Summer Street
Sharksmouth was built in 1868 on 38 acres fronting Dana's Beach, formerly owned by Jacob Kitfield of Kettle Cove. The house was built for a prominent Boston family, General Greeley Stevenson Curtis, and his wife, Harriot Appleton Curtis. The Curtis Family had been introduced to the dramatic Manchester coastline by friend Richard Henry Dana, the town's first summer resident whose home was nearby.
Architects for Sharksmouth were Ware and Von Brunt. The exterior is made of Rockport granite, the pink course is from Quincy, and the interior carved stairway was salvaged from the John Hancock House in Boston. They named their property Sharksmouth because of the distinctive rock formation at the edge of their waterfront property.
Shortly after construction, the Curtis Family added a stable, barns, cottage, and caretaker's house, where Edward Payson Hooper resided for his 52 years of service. Orchards and gardens enhanced the property. In 1883 a third story was added to accommodate the growing family of five daughters and five sons.
Daughter Elinor married the well-known painter Charles Hopkinson in 1903, and they built a house next door to Sharksmouth. Two other daughters, Harriot and Margaret, were pioneers in women's golf, each winning a National Championship, and established the Curtis Cup Golf Tournament between the top amateur women golfers of the United States and Great Britain.
Many famous guests have visited the estate, including Henry Wadsworth Longfellow, John Singer Sergeant, and the English astronomer Sir Robert Ball.
A trust preserves Sharksmouth to keep it for all the family's descendants. It is occasionally rented for weddings, reunions, and small conferences.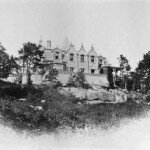 Sharksmouth overlooks Graves Beach on a rocky ledge built from Cape Ann granite and bricks and wood shingles.
Cove Farm & Crowhurst – Ocean Street
In 1895 Mr. Francis Whitehouse of Chicago bought the White Beach Pasture for $40,000. It is located off Summer Street and can be seen from Ocean Street. The next year Whitehouse purchased the adjacent land across Ocean St. overlooking White Beach and the Atlantic Ocean for another $10,000.
Whitehouse built stables on the White Beach Pasture property for his many saddle and coach horses. The stable complex was built around a courtyard in Norman French style. It had two coachman apartments as well as an apartment over the garage. A gardener's cottage was attached to the stables where Whitehouse stayed in the summers until he built the big house across Ocean Street a few years later. The farm and stables were known as Cove Farm. The gardener cottage was detached and moved in 1903 to its location closer to Ocean Street. In 1941 Mr. and Mrs. King bought the property and remodeled the stables into a private home. The farm continued to operate for many years, and the house still exists today.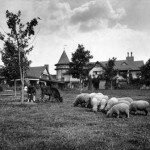 Cove Farm was a working farm overlooking White Beach.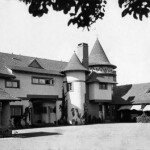 The stable entrance was close up. The Cove Farm stable was later converted into a living space.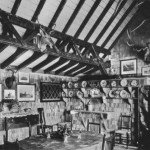 Dining room in stable quarters.
Crowhurst, a large summer cottage befitting their opulent lifestyle, was built by Mr. and Mrs. Francis Whitehouse in 1902-03 across Ocean Street overlooking the Atlantic Ocean. It was designed by the owner, Francis Whitehouse. The scale of the house was huge, and the dining room alone was the size of a typical Cape Cod cottage. In the 1930s, Crowhurst was sold to Mr. and Mrs. Carl Jacobs, who built a smaller house on the property, and Crowhurst was later razed.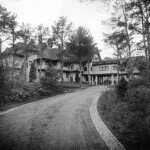 Entrance to Crowhurst, the summer cottage built on the water after the stable and farm had been established.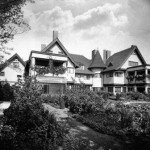 Garden façade to Crowhurst.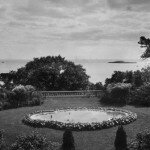 Formal gardens overlooking the ocean at Crowhurst.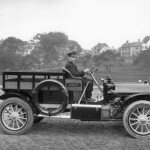 Driver for Crowhurst at the station to pick up houseguests.
Sunny Waters – Masconomo Street
Sunny Waters on Masconomo Street is one of the town's earliest summer residences. It was built in 1863 by Major Russell Sturgis Jr. on 8 acres of beach frontage. The property purchased two years earlier cost $1,600. Sturgis was only 30 at the time, having retired the year before after a short but obviously very successful business career.
In 1862, Sturgis organized a company of Manchester men to fight for the Union cause in the Civil War and was named Captain. After his Manchester unit served with distinction with the 45th Regiment of Massachusetts Infantry, Sturgis was promoted to Major.
When his first wife, Susan Welles Sturgis, died in December 1862 following the birth of her fourth child, Sturgis was discharged and returned to Sunny Waters. He remarried in 1866, and in 1868 his new wife gave birth to twins. The Major was overjoyed and asked his wife what she'd like as a gift. She is said to have exclaimed, "Oh Russell, build me a little church!" A deeply religious man, Sturgis was more than happy to comply, building the town's first Episcopal Church on Masconomo Street, not far from his home. His brother, architect John Hubbard Sturgis, designed the church as a Gothic Revival chapel. Services continue to be held there during the summer months.
In 1896, Sturgis added carriage sheds and a massive stable to his Sunny Waters estate. The builders were the local firm of Roberts and Hoare.
By this time, Sturgis had become one of the town's leading citizens, and his opinion was frequently sought at Town Meetings. When the Major died in 1899, a son took over the house, while his widow continued to live in the house. 1928 it was sold to John L. Hall and altered by architect Henry F. Bigelow. The house was raised one whole floor, and a ballroom was added on the west end.
Today, Sunny Waters remains an outstanding example of the fine homes of a lost era.
Lilliothea – Proctor Street
One of the most extraordinary houses in Manchester is Lilliothea, designed and built for George Robert White in 1913-14. When White acquired the property in 1898, he promptly tore down an existing dwelling and built his new home, a shingled, towered, and turreted house typical of the late 19th century. In 1912 he decided he wanted something grander and hired architect R. H. Wambolt of the Boston firm of Bigelow and Wadsworth to create a house that resembles a 16th-century French chateau.
Instead of razing White's original shingle house, Wambolt had a new, larger shell built around it, encased in Indiana limestone and several tons of brick from France. Frederick Law Olmsted designed the landscaping. Olmsted hired 400 men to work for three months. They used no machinery. All work was done by hand with picks, shovels, and if needed, dynamite. The final touch was the placement of sod from New Jersey.
One day while entertaining Buffalo Bill Cody, White asked his guest what an American Indian would call the place if he lived there. Cody replied, "Lilliothea," meaning "a place with a view from a hill" – an apt description for a site with a spectacular view out the harbor to the islands and Marblehead in the distance.
George Robert White was a wealthy man. He was president of a drug company in Malden, MA, and a successful real estate investor in Boston. He was acclaimed as the city's highest individual taxpayer at one time. White never married and lived alone in his château until he died in 1922.
Following the death of White, his sister lived at Lilliothea until 1930. The house changed hands several times and then sat empty until 1944. The house's name was eventually changed to Wyck, which in Dutch means "big house."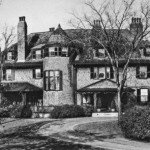 The first shingle house was built by George White in 1898.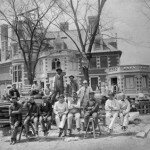 The second version of Lilliothea was built in 1913-1914 as a stone façade around the shingle house. Stone carvers were brought in from Italy to help build the French chateau and do the intricate interior carvings.
The Marble Palace – Coolidge Point
In 1871, T. Jefferson Coolidge, founder and first president of Old Colony Trust Company and direct descendant of President Thomas Jefferson, bought the Goldsmith Farm in 1871. The farm was on land in easternmost Manchester, now known as Coolidge Point. There he built a summer "Mansion House" which could accommodate 26, in addition to the servants.
This large dwelling was repositioned on higher ground in 1903, the same year his son, T. Jefferson Coolidge Jr., decided to build his summer home on the property. T.J. Coolidge Jr. envisioned a magnificent brick edifice with marble columns along the lines of a Newport, Rhode Island mansion. McKim, Mead, and White, the country's premier architectural firm at the time, drew plans. Charles McKim was already a personal friend of the family, having been hired by the elder Coolidge to design Manchester's first Public Library in 1888. Norcross Brothers of Boston managed the construction of the younger Coolidge's summer home, which took one year to complete. The new mansion on Coolidge Point was called The Marble Palace.
The Marble Palace was inspired by the old Virginia mansions in the Georgian style, made of Harvard brick with white marble trim and columns reminiscent of Monticello. The entrance portico was framed by four stately marble columns, each weighing 13 tons, supporting the carved marble cornice overhead. The window trim, front door, and steps were also made of Marble. The 230-foot-long house was designed as a three-part floor plan, with a main block and two wings. The water side of the house overlooked 700 feet of open lawn to the sea. The entrance, or open porch, was framed with marble columns. This space was later enclosed with glass and furnished as an informal lounge. One side was a magnificent formal Italian garden, terraced with roses and rhododendrons. The Marble Palace was filled with important house guests, including President Woodrow Wilson.
T.J. Coolidge Jr. died in 1912 and was survived by his father until 1920. The property was passed to Mrs. T.J. Coolidge Jr., Clara Amory, who kept it for her children until she died in 1957. The Marble Palace was demolished in 1958 by T.J. Coolidge III, the eldest of the four sons, and replaced with a more modest one-story brick house.
Eventually, Coolidge descendants generously gave more than 57 acres of Coolidge Point, including the Ocean Lawn, to the Trustees of Reservations to be preserved in perpetuity.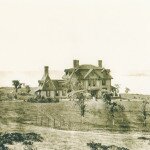 "Mansion House" replaced with Marble.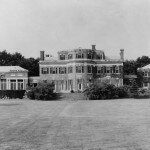 View of The Marble Palace with the sweeping lawn to the sea.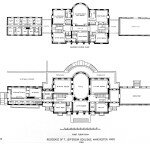 Floor plans – first and second floors.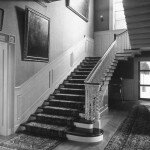 Main stair hall.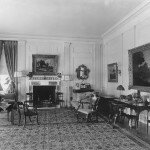 Formal living room.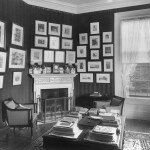 Oval living room.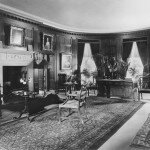 Study with the bearskin rug and portrait-lined walls.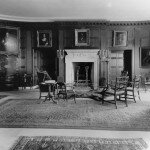 Study with the bearskin rug and portrait-lined walls.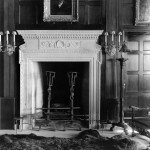 Study with the bearskin rug and portrait-lined walls.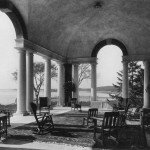 Loggia.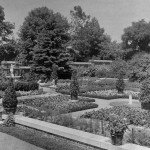 Formal Italian gardens predate The Marble Palace. They belonged to T. Jefferson Coolidge, Sr.
Kragsyde – Masconomo Street
In 1882 Reverend Cyrus Bartol sold six acres of land on Lobster Cove, Smith's Point, to George Nixon Black Jr. for $10,000. There Black built Kragsyde, a quintessential Shingle Style cottage designed by Peabody and Stearns and landscaped by Frederick Law Olmstead. The builders were the local firm, Roberts and Hoare. The house cost approximately $60 000 to build.
Mr. Black lived in Kragsyde with his mother until 1928. The house was sold to Mr. and Mrs. Pierpont Stackpole in 1929. Soon after, the house was razed and replaced by a stucco house built on Kragsyde's foundation.
In 1979, a couple, determined to build a classic Shingle Style cottage on property they owned in Maine, came to Manchester hoping to visit Kragsyde. Devastated to learn it no longer existed, the couple sought information from the Boston Public Library. There they found a blueprint of the original plans for Kragsyde, and with this as their guide, were able to build their dream house in Maine, a replica of the Kragsyde.
Yale University professor emeritus Vincent Scully, the foremost authority on Shingle and Stick style architecture, continues to direct students to visit the Kragsyde reproduction near Winter Harbor, Maine. There they can study the long-lost art of building a quintessential cottage.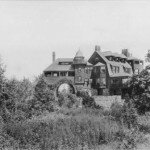 Shingle and Stick style architecture – one of the classic examples of its kind – was built in the 1880s and demolished in 1929.
The Rocks – Tuck's Point Road
The Rocks on Tuck's Point Road was built in 1903 for the Eben Dyer Jordan Jr. family. The four-and-a-half acre site was purchased from the Mansfield family, and the house was designed by architects Wheelwright and Haven. Jordon tore down an existing house on the property. He then raised the grade of the building site several feet and positioned his new summer cottage closer to the water, where it overlooked the outer harbor, Misery Island, and Baker's Island. The Rocks are considered a fine example of Elizabethan or Grand Tudor architecture.
Jordan was head of the successful Jordan Marsh & Co. department store chain, established by his father in 1895. Jordan helped finance the founding of the Boston Globe newspaper, mainly to advertise Jordan Marsh! An accomplished singer, Jordan is also credited with establishing the Boston Opera House and serving as president of the Boston Opera Company and the New England Conservatory of Music.
Not surprisingly, The Rocks featured a magnificent music room filled with fine art. The upstairs was large enough to accommodate quarters for twelve maids but had only one shared bathroom. Terraced gardens, a stable, a caretaker cottage, and a tennis court were on the grounds.
The Rocks is a story of preservation and re-invention. After Jordan's death, his son and daughter inherited the property and rented it for four or five summers before selling it in 1925. Over time, subsequent owners began to downsize the 185-foot-long structure, removing the third floor entirely and reducing The Rocks to just one-third of its original size.
Happily, in 1997, new owners undertook a sensitive restoration, returning The Rocks to its original grandeur.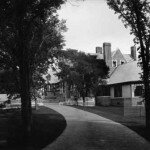 Street view and drive to The Rocks.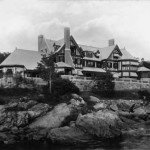 The Rocks overlooked the outer Manchester harbor.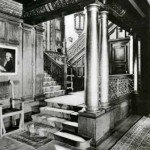 Staircase with elaborately carved balustrade.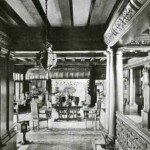 Note the elaborate wood carving of the reception hall.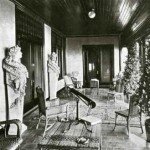 Loggia.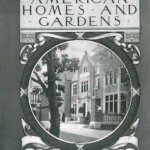 In July 1905, American Homes and Gardens featured The Rocks on its cover.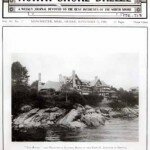 The September 1908 North Shore Breeze featured The Rocks on its cover.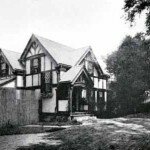 The caretaker's cottage, present view.
Apple Trees – Jersey Lane
1895 Girard Bement bought land on Jersey Lane from Henry Lee Higginson and built this handsome home. Four Corinthian columns grace the front entry. The builders were Morrison and Rackley of Boston. In April 1896, the Manchester Cricket described it as "one of the most beautiful and artistic of the many shore cottages in Manchester".
The Stephen van Rensselaer Crosby family bought the property from Bement in 1903. Mrs. Crosby loved flowers, so greenhouses were added to the property. Apple Trees soon became known for its beautiful gardens, designed by William Ernestus Bowditch of Milton, MA. The hornbeam hedge, which borders the drive leading to the front entrance, was planted in 1910 and today stands about 12 feet high.
Mr. and Mrs. Crosby summered at Apple Trees until they passed away in the 1950s. The house was sold shortly after their deaths. Their son, Harry, is known as a tragic figure in literary circles. After founding a publishing company called the Black Sun, Harry moved to Paris, hoping to interact with Ernest Hemingway and his circle of bohemian expatriates. Crosby was a decent poet with unfulfilled aspirations of becoming a major literary figure. Unfortunately, he suffered demons much like Hemingway and took his own life and that of his girlfriend. The suicide/murder scandalized Boston society and must have also been the subject of much talk in Manchester.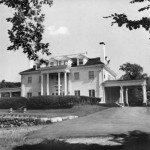 Apple Trees was built at the turn of the century and is known for its beautiful Corinthian columns and formal gardens.
Edgecliff – Coolidge Point
While little is known about the design and history of Edgecliff, a summer house on Coolidge Point, we include it in our exhibit because of its interesting owner, Ernest Wadsworth Longfellow. The son of renowned poet Henry Wadsworth Longfellow, Ernest was a well-known landscape artist. He was born in 1845 in Cambridge, MA, and studied in Paris, making many trips abroad. In 1868 he married Harriet "Hattie" Spellman, a talented artist in her own right.
Longfellow's work was exhibited in New York City, Boston, and at the 1876 World's Fair in Philadelphia. He moved to New York around the turn of the century but kept close ties to Cambridge and Manchester. He died in 1921, leaving about 55 of his paintings to the Museum of Fine Arts in Boston.
Longfellow's former summer home, Edgecliff, no longer exists.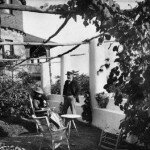 Longfellow and his wife relax on their porch at Edgecliff.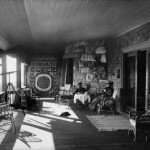 Longfellow and his wife relax on their porch at Edgecliff.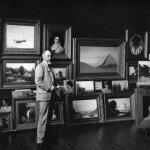 Ernest Wadsworth Longfellow, artist, in his studio on Coolidge Point.
Highwood & Woodholm – Off Jersey Lane
A large parcel of land on a hilltop off Jersey Lane was purchased and presented to Mrs. William B. Walker of Chicago as a wedding gift by her father, Silas B. Cobb, a wealthy industrialist, in recognition of his daughter's "unusual business ability and good judgment." Her husband, William B. Walker, was a millionaire who made his fortune in Chicago real estate and the stock market. In 1897 when the Walkers decided it was time to build a summer residence on their Manchester property, they hired the firm of Shepley, Rutan, and Coolidge to design an impressive English Tudor-style house. The house was called Highwood, and the entire estate – Manchester's largest – was known as Woodholm. The landscaping was created in a park-like manner by the famous Olmstead Brothers. It included seven miles of well-kept roadways, forests, meadows, and a large pond called "Lake Louise".
When Woodholm was completed, Mr. Cobb moved from Chicago to live with his daughter in the new house, residing there for five years while helping supervise the upkeep of the property until his health failed. William Walker also made Highwood his year-round residence and took over management of his father-in-law's affairs.
According to all reports, a remarkable group of employees worked for the Walker family. The English cook came with them from Chicago and stayed until Mrs. Walker's death. The head chauffeur and the houseman were also described as dependable and helpful, as were the laundress, butler, and florist.
Between 1899 and 1907, a farm barn, cottage, automobile garage, and greenhouse were added to the estate. Around 1926, Walker's son, Charles Cobb Walker, built a second house for himself known as "The Lodge." His property included a stable, and Little and Browne designed another greenhouse. Walker had grand plans to develop Woodholm further, as shown in the exhibit, but the stock market crash changed everything. The Woodholm property was subdivided into house lots after Charles's death, and Highwood was razed in 1954.
Highwood Photos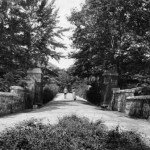 Gated entrance to Highwood.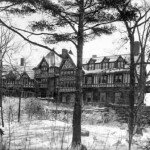 Highwood was known as the "Castle in the Air" by its owners, the Walkers.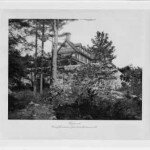 Highwood overlooked the woods and had a distant view of the sea.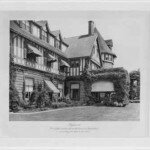 Front view of Highwood.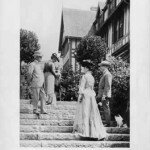 The Walkers welcomed guests to Highwood on their front steps.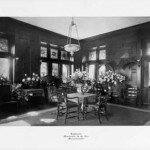 Note the wood-paneled walls and stained glass windows.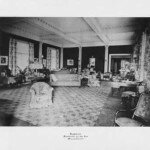 The formal rooms were decorated with floral drapes, upholstery, and rugs. The elegantly carved ceiling and wall trim contrasted with dark walls.
Woodholm Photos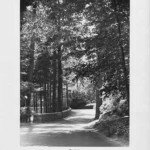 Charles Walker inherited his parents' land and planned to develop all 350 acres in the late 1920s. The stock market crash came first, and the plans never materialized. The present-day housing development known as Woodholm was built in the 1960s.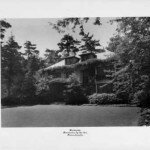 The Lodge was built as a home for Charles Walker.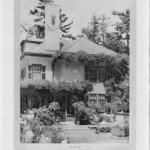 Close-up of The Lodge.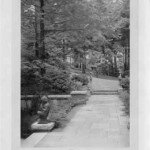 The paved path to the gardens.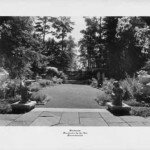 Woodholm Gardens and paths.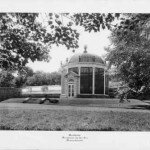 Woodholm Greenhouse was built as part of plans to develop the estate.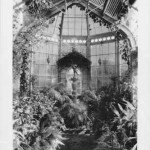 Conservatory to the estate still looks the same today.
The Masconomo House Hotel – Masconomo Street
Junius Brutus Booth Jr. and his brothers, Edwin Booth and John Wilkes Booth, were famous actors on the American Stage. John Wilkes Booth, of course, later achieved notoriety for another reason.
Growing up near Baltimore and active in theatrical circles, Junius was married three times. His last wife, Agnes Perry, was just as young as his daughter. She, too, was a gifted entertainer, and they were drawn to Manchester by actor friends who had already discovered the beauty and serenity of the North Shore.
In 1867, Junius and Agnes Booth bought a property at the corner of Beach and Masconomo Streets and built a cottage where they soon found themselves entertaining many actors and actresses. In 1878 they decided to expand their hospitality and their home as well. The Beetle and Wedge, a local newspaper, reported that "J. B. Booth, Esq., has contracted with Messrs. Phillips and Killam to build a summer hotel … 230 feet in length, facing the ocean, and will be 50 feet wide. It will accommodate 300." It was connected directly to the original Booth cottage.
The Masconomo House Hotel, overlooking Singing Beach, was a huge success and the epicenter of the social whirl in Manchester during the Gilded Age. There were dances, concerts, and parties, and plenty of sports – swimming in the ocean, lawn tennis, billiards, bowling, and boating in the harbor.
After Junius Booth died in 1884, his wife, Agnes, married a family friend, John Schoeffel. Together they continued running the hotel with great success. In 1887, actors and friends of the owners presented a performance of Shakespeare's "As You Like It" on the lawn of the Masconomo House. It was the first professional theater performance staged outdoors in the United States. This was followed the next year by another al fresco production, "A Midsummer Night's Dream." There were 100 electric and calcium lights to illuminate the show, along with a grand orchestra and full chorus.
After Agnes died in 1910, her husband, John Schoeffel, purchased the hotel from her estate. He employed several managers and added gas tanks for gas lamps. He left the hotel to his friend, Mrs. Isabel Sullivan, in 1915. By this time, the hotel was in decline and caught fire in 1919. Only a small portion survived, along with the original cottage. Today, that remnant of one of America's grandest resort hotels is a private residence.
Masconomo Hotel Photos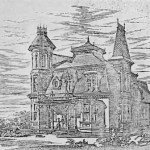 The original Booth Cottage.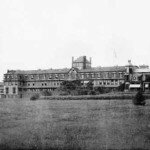 View of the Masconomo Hotel looking toward Singing Beach.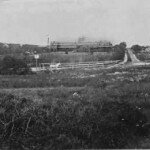 View of the Masconomo Hotel in the distance, as seen from Singing Beach.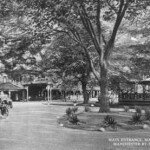 Inviting circular drive welcomed guests to the hotel.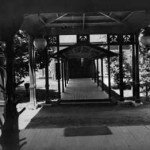 Front entrance porch where guests were greeted by friendly employees, often young Harvard undergraduates.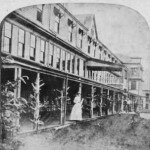 Veranda.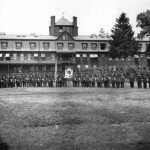 Special program at Masconomo Hotel.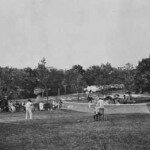 Recreation at the hotel included lawn tennis.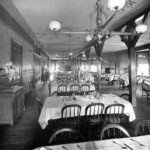 The expansive dining room could seat 300.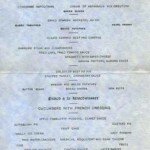 Note the menu.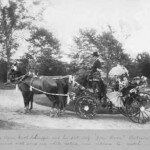 Mrs. Agnes Booth Schoeffel was on her way to the 1892 celebration of Manchester's first municipal water system. The competition was for the most decorative carriage in the "Water Celebration".
At Your Service
This section pays tribute to the many men and women of Manchester who catered to the needs of the wealthy summer residents. In 1895, at the height of the Gilded Age, the following merchants, tradesmen, and professionals were enjoying a brisk business in Manchester's compact downtown: four groceries, two provision stores, two variety stores, two apothecaries, a baker, two fish markets, two blacksmiths, two coal and wood dealers, an ice merchant, two painters, a milliner, two barbers, a shop selling bicycles and sporting equipment, two laundries, two horse and carriage rentals, a florist, two hotels, a shoe dealer, a horse saddlery, a furniture company, a carpenter, an electrician, two contractors, two hay and grain dealers, four doctors, and of course, a couple of insurance agents.
Oh yes, let's remember that each of the Grand Houses featured in our exhibit employed a full staff of cooks, household servants, gardeners, grooms, and stablemen, and with the introduction of the motor car in 1910, a chauffeur.
Photos
B.S. Bullock Bakery: This dapper deliveryman with a basket of freshly baked bread worked for B.S. Bullock, whose shop was on Washington Street next to the "1661 Cemetery." While specializing in crackers, cakes, pastries, bread, and ice cream, Bullock also sold hot baked beans on Saturday evenings and Sunday mornings.
Sheldon's Meat Market: Sheldon's Market was perched on the edge of Bridge Street, just west of where Sawmill Brook empties into the harbor. It opened for business in 1845. Owner Charles H. Sheldon employed the eight men and bookkeeper seen in this photo. He also had five teams of horses for deliveries. His meat was high quality, and several of New York City's finest hotels were among his customers.
Standley's Blacksmith Shop: These rugged smithies worked in the blacksmith and carriage shop Horace Standley, founded in 1884 at the corner of Beach and Summer Streets. Described as "a man of genial temperament and a thorough worker," Standley specialized in horseshoeing.
Standley's Garage: In 1915, when automobiles became popular, Horace Standley's son, Wes, began operating a garage and service station next to the family Blacksmith Shop. Here we see a wonderful array of early motorcars and motorcycles. Standley's garage is still in business today.
Manchester Ice Company: No deliverymen were more welcome during the hot summer than local icemen. There were several ice companies in Manchester, employing 30 men. Ice was harvested from local ponds during the winter and stored in "ice houses," such as the one on Bennett Street. Ice was delivered to homes, restaurants, and hotels.
American Express: We are not certain who owned the local franchise for American Express, but they were undoubtedly very busy during the Gilded Age. Here is a truck loaded with building materials, probably headed to a construction site where Roberts and Hoare were constructing yet another Grand House.
E.H. Wetterlow & Son Florist & Greenhouse: Providing fresh flowers and elaborate floral displays for the Grand Houses was a blooming business for several local florists, including E.H. Wetterlow & Son. It remained in operation on Brook Street until the 1990s.
Household Staff at Kragsyde: Some staff tended to the needs of the George Black family at Kragsyde. The gentleman at the lower left, wearing the derby, was the family's chauffeur.
📎 Related Articles
1. Kaufman County's First Three Court Houses
2. Churches of Eglish
3. County Seats of Kaufman County
4. The Legacy of Historical Theater: A Deep Dive
5. Exploring the North Carolina Museum of History