Influential Figures
A Deep Dive into the Life and Legacy of Zachary Babington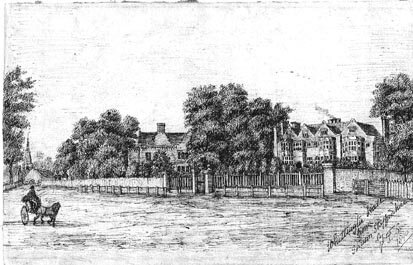 Gate piers that survive in the brick wall in Fisherwick Road (more or less opposite Whittington House) belonged to the house pictured here to the left of the Old Hall. The stone piers bear the initials "ZB" and the date "1673". Zachary Babington's will of 1686, transcribed below, tells us he lived in Whittington in a house he built himself. This branch of the Babington family was distantly related to Anthony Babington, who in 1586 was hung, drawn and quartered on Tower Hill, aged 24, for his part in the plot to put Mary Queen of Scots on the throne of England.
There is a memorial to Zachary in Whittington Church. The Latin translates:
Beside this altar, which stands in his lasting memory, a sprinkling of earth covers the sacred body of Zachary Babington, Esq. His father, William Babington, Esq., awaits his coming and resurrection. His grandfather Zachary Babington, LL.D and Chancellor to the Bishop of Coventry and Lichfield. His brother Matthew, D.D. chaplain to King Charles I. He married Katherine, daughter of John Alden, Esq. From this union and in his lifetime, four sons were born – John, Zachary, Alden & Alden and as many daughters – Eleanor, Mary, Katherine and Dorothy. He died on 23rd October 1688. In the same spot, lies buried the body of Katherine, wife of Zachary. And the first-born of John and his wife Mary (the daughter of Randolph Hawkes of Newton, Esq.), by whom five children were born – Katherine, Zachary, Dorothy, Mary and Elizabeth. We die in many different ways.
The Last Will and Testament of Zachary Babington
In the name of God, Amen. I, Zachary Babington of Whittington in the County of Staffs Esq being prayerful to God in perfect health & memory doe make this my last Will and Testament in the manner following. In the first place I bequeath my soul to Almighty God that gave it trusting for Salvation only in the merits of my blessed Saviour and Redeemer Christ Jesus. My body to be buried at the discretion of my Executrix hereafter named. It(em) concerning the houses Lands Tenements and Heriditaments I have or shall have att the time of my death I thus dispose of The House or Capitall Messuage in Whittington aforesaid built by me and wherin I nowe inhabit w'th all my Houses, Lands and Tenements in the p'ish* of Whittington aforesaid with ffreehold or Coppihould Land (having licence of the Lord of the Manor of Longdon to dispose of my Coppy land by will) together w'th all my Land and Tenements in the p'ish* of Widnesbury** and Armitage in the County of Staffs. The meadow ground I bought in two meadows called Doddsmore***. and Goodwins Meadow – lying in Tamhorn and Timmor – ? one or both of them in the County of Staffs – together w'th the Lands and Tenements I lately purchased in Harlaston in the p'ish* of Clifton in the said County of Staffs comonly called Richard Browns Ffarm And the house or burgage situate in Sandford Street in Lichfield Citty I give and devise to my deare wife during her naturall life together w'th All other Lands Tenements and Hereditaments I shall have any state of Inhabitation in att the time of my death in Staffordshire or in any other County or place except what is herein otherwise devised. Item the Houses lately built since the late dreadfull ffire in London in Buttolph Lane and Low Lane these late in the holding of Mr Brake, a merchant lately deceased being about ffive in number (a moyity**** thereof my wife is to enjoy during her naturall life by her ffather's Will) the other moyity**** of them w'ch I purchased to me and my heirs of my brother Edward Babington his daughter and Coheirs or to their Interest in the ground before they make rebuilt. I give to my wife during her naturall life and after her death to my sonne Zachary and his heirs the other moyity will descend to him after his mothers decease according to his grandfather Alden his will. Item. All the Right Title and Interest I have or shall have att the time of my death w'th my worthy friend Phillip Pargiter Esq to the Prebendary's Lease of the Prebend of Alrewas in the County of Staffs and to the Tithes and profitts thereof yearly enduring (after the decease of my wife) I give to my said sonne Zachary and his Assigns in as ample and beneficial a manner and under the said Covents and agreements as I have or ought to have in the future. Item The Lease and Interest of years or lives I have from the Towne of Lichfield in a ? ground called Cry Croft lying in Streethay in the county of Staffs in the holding of one Mr Rob't Bayley of the Citty of Lichfield as also the Lease I hold from the Viccars Choralls of the Cathedrall Church of Lichfield of the Close adjoining to Cry Croft aforesaid w'th seven Acres of Lands belonging to the said lease lying in a comon ffield belonging to the Citty of Lichfield in the holding of one Harrison I give to my sonne John and his Assigns during the contynuance of the said lease for paying yearly to his sister Katherine during the contynnance of the same the sum of ffive pounds out of the yearly Rent ? by the said lease . Item the house I lately purchased of Thomas Green in Sandford Street in the Citty of Lichfield w'th the appurtenances wherein my daughter Katherine now w'th her husband inhabith I give to my said wife – during her naturall life. – (I know she will be kind to her said daughter) and after the decease of my wife my will is this. my said daughter Katherine do enjoy the use of that house during her naturall life. I give also to my said daughter Katherine ffifty pounds. To my grandchild Dorothy Dyott that lives w'th me Two Hundred pounds. Item I give to my sister Drakeford***** (if she be then living att the time of my death) fforty shillings. To my Daughter Babington, Daughter Dyott, and my Daughter Elinor, I give to each of them ffive pounds. To my truly beloved and honest brother in law John Nickyn^ gent. and his wife I give to each of them Twenty Shillings. To my Godsonnes Zachary Dyott and Zachary Levvett I give to each of them ffive pounds. It(em) I give to my Godsonne Zachary Griffith fforty shillings To my Godsonne one of the sonnes of Mr W'm Quinlon of Wall I give ten shilling. To the poor of the p'ish* of Whittington where I live I give ffive pounds to be disposed of att the discretion of my executrix hereinafter named. To my servant that shall live w'th me att the time of my death I give ffive shillings. To my dear friend Mrs Bagnall of Newcastle in this County widdow and relict of my most precious friend Mr Thomas Bagnall deceased I give the two and Twenty shillings piece of gold (put in a pag^^ in this my will) to be forthw'th sent her after my decease being the same her dear husband left me. Item My will is that all the other Legacys hereby given may be payd and sertiffied w'thin two years after my decease (other than the Leases I have here disposed of w'ch will fall as I have given them) And in case I shall not leave sufficient in ready money (att the time of my death) to discharge all the said Legacys hereby given. I do hereby charge the pay'ent of them (for so much as shall be wanting in ready money to do it) uppon the Rents and Proffitts of all my Lands Tenents and Hereditaments in Harlaston Widnesby and Armitage afores'd, to be raised by my Executrix and her Assigns out of the Rents and P'ffitts thereof for soon as conveniently it can be. And lastly I do hereby constitute and appuynt my most dear and loving wife – my most even yokefellow^^^ – the sole Executrix of this my last will and Testament and do hereby give her all my personall effects, not hereby formerly disposed of, And do hereby appuynt my Two sonnes John and Zachary overseers of this my will, not doubting but that they will both and each of them faithfully assisting to their dear mother ? both she and myselfe having been kind parents to them: And I do hereby desire my said sonne John that in case there happen to be An Acre or two (but I doe not know there is so much) of Coppy hold Lands in Whittington, left out of my licence in Longdon Court Coppy to dispose of my Coppy hold Lands there by my last will that he suffer his mother to enjoy it for her life, w'th the house and Lands in Whittington, that I have devised unto her I desire no great solimpuity^^^^, nor ffluveall sermon be preached att my Interment. My dead Corpse will sufficiently distress (to all them present) the certainty of mind and the truth of their succeeding mortalities; In witness that these two sheets of pag^^ filed together and written w'th my own hand contayne my last Will and Testament. I have hereunto putt my hand and seal the seventeenth day – of July …….. in the second year of the Reigne of our Sovereign Lord King James the Second of England — Anno –domini 1686
Signed sealed published and disclosed by the
above named Zachary Babington as his last Will
and Testament in the presence of
NICHOLAS HARVEY
THOMAS BLADON
JOHN BAXTER
TRANSCRIBED (WITH DIFFICULTY)
PETER BRITAIN, CIRCA 1976
PHILIP WOOD, JULY 2001.
SUE COOKE, OCTOBER 2001
Notes:
Italics throughout denote uncertainty of transcription
*parish
** Babington family connections with Wednesbury through William Babington born 1489 who had married the eldest daughter and co-heir of John Beaumont, esq. of Wednesbury
***Hard to read, but reference in Victoria History of Staffordshire to a Dodsmore Meadow p 250
****Shorter Oxford Dictionary: moiety – (from old French) – a half or either of two (not necessarily equal) parts
*****Zachary's sister , Anne, married a Richard Drakeford
^Staffs Pedigrees 1664-1700 cites a John Nicken of Hatherton as the father of John Babington (son of Zachary born 1611)'s wife Elizabeth. Brother-in-law probably being used as a loose term, ie a relative by marriage of a similar age.
^^pag = (we guess) abbreviation for page
^^^Shorter Oxford Dictionary: yoke-fellow = a marriage partner, spouse
^^^^solem(p)nité = old French for solemnity
📎 Related Articles
1. Wikipedia: Babington Plot
2. Wikipedia: James II of England
3. Wikipedia: Great Fire of London
4. Wikipedia: Whittington, Staffordshire
5. Exploring the Lesser-Known Facets of Winston Churchill